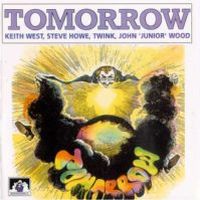 The one and only album from this English band.
Tomorrow was the band where Steve Howe (Yes, Asia etc) started out. The vocalist Keith West also had a pretty decent career after Tomorrow broke up.
The famous BBC DJ John Peel was very fond of this band and gave them their break. Unfortunate without the band becoming a commercial success as the two bands they mostly shared the scene with; Pink Floyd and The Soft Machine. Tomorrow just faded away after this album.
An album which is not bad at all. The term hard psych is probably a fitting label here. Another good comparison is The Who. The music on this forty minutes long album is pretty hard throughout. The softest song being the Beatles cover Strawberry Fields Forever. Even this version is pretty hard and psychedelic in Tomorrow's version. Unfortunate, it is also the best song on this album.
The end result is a decent album which is well worth checking out. Not at least because of Steve Howe and his hard guitar works here. He has never ever been as hard and psyched out as on this album. The vocals too is not bad at all. Hence, check it out.
2 points