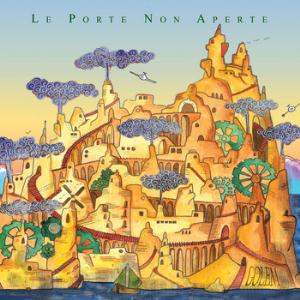 Italian progressive rock is very much alive and well. Bands like Le Porte Non Aperte very much prove that point. Golem is their debut album.
Le Porte Non Aperte has very much copied the sound of the 1970s heavy progressive Italian bands. There is tonnes of Hammond organs, flutes, guitars, bass and drums here. The Italian vocals are also very much present here. The result is very much an Italian album. An album you which could only come from Italy.
The result is a very good album which only is lacking in the great songs department. There are some sporadic great melody lines and details here and there during this one hour long album. There are too few of them to make this a great album. The vocals are a bit too wild too and reminds me about the vocals in Area. A bit more restraint here in the shouting department and a bit more proper singing would had made this an even better album. Besides of that, this album is very much recommended. You can either purchase it as a CD, download or listen to it at the link below. I recommend buying the CD and or the LP due to the excellent artwork.
This is a very good album and a very encouraging debut album. More of the same, please.
3.5 points
Listen to the album here