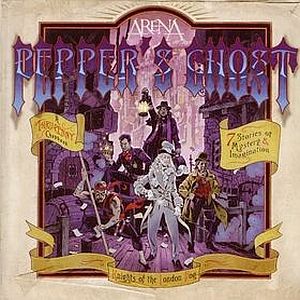 For some reasons, I thought this album was going to be their masterpiece. I have no idea where I got that idea from.
Pepper's Ghost is their sixth album and is following on from the album that is their masterpiece; Contagion. Pepper's Ghost is more about bombastic songs and not so much about finding the good melody. It seems like they have not found the art of great song writing on Pepper's Ghost though. They have replaced it with a wall of sound instead. Sometimes during this album, I feel am receiving some tonnes of artillery grenades on my head. This is a bombastic album. Very bombastic.
The songs are very good though. Ditto for the sound which I am afraid is sounding like the 1990s sound though. Which is not a negative in this case. What I am missing is some great songs though. There is none of them here. This is still a very good album though and I would recommend it to everyone into neo prog as Arena is one of the five best, perhaps three best bands in this genre.
3.5 points