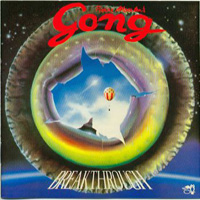 The fourteenth album from Gong.
We are still talking about Pierre Moerlen's Gong here. That means jazz/fusion. That and some rock infused into the music too.
The first half of this album is not too band. It is the typical jazz we heard on Shamal. It is just that it seems like the barrel is empty and that the band is running on empty fumes here. The music sounds stale and tired. Not good at all with the exception of the good title track. It is one of only two tracks worthy of the Gong name.
The second half is even worse. The band has suddenly discovered the horrible 1980s plastic fantastic rock sound and adopted it. The result is pretty horrible. The album closes with the rather good jazzy six minutes long Far East.
This forty minutes long album is a rather forgettable album not worthy the Gong name. Two good tracks makes this a decent album, but barely that. There are far better Gong albums out there.
2 points