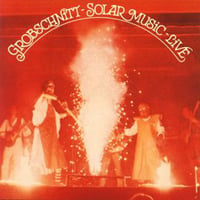 Grobschnitt from Germany was a very strange band throughout their career. I am not a fully signed up fan to their music. I am firmly a sceptic.
Their masterpiece and what they will be remembered for is the Solar Music suite, concept or whatever we should call it. It is a long spaced out workout delivered as long guitar solos. It is one of the most famous, if not the most famous, piece of krautrock ever. Solar Music is for me what krautrock really is. The best of it.
The live version as presented here, the first of the many Grobschnitt live albums, delivers the best version of this suite. The sound is good, the musicianship top notch and there are even a lot of great humour here between the band and the audience.
The music is great too. I am a fan of spaced out long guitar solos. This album delivers everything I could wish for in that respect. Spaced out is what I would call this music. Solar music in other words. It is a hippie fest, this album. Even without being filled up to the eyeballs with illegal substances. This review has been written in a stone cold sober state of mind with some help of a mug of lukewarm black coffee.
This album is great and one of the best live albums from the 1970s. It is on a level or two below Deep Purple's standard bearing Made In Japan. It is also the best album Grobschnitt has ever done too. It is highly recommended.
4 points