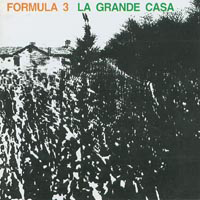 The fourth album from this Italian band and the final good album from them.
Formula 3 was always on the prog rock fringes with their bluesy space rock and pop sound. Truth to be told, they never really released a great album whereas their Italian peers released some great albums.
La Grande Casa is a mix of space rock, Italian pop and some symphonic prog. The Italian vocals are very good. The sound is very good too and the typical Italian sound. The music is performed with Hammond organs, bass, drums and guitars. I cannot fault the band for anything.
The music is not particular good though. The lack of any good tracks is a problem here. This album is pretty dull with not really any good details here to break up the mix of pop and space rock here. The album is also only half an hour long and does not really represent any value for money. It is a decent album but nothing more than that.
2 points