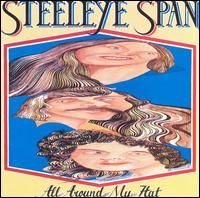 The eight album from this English band.
Steeleye Span was again a six piece band on this album. The lineup was guitars, piano, bass, drums, mandolin, violins, tabor and vocals. Both male and female vocals. And yes, both Tim Hart and Maddy Prior is very much present here.
Maddy Prior and Tim Hart must surely be one of the best vocals combinations the scene has ever seen. I believe this musical pair has also released one or more albums as a duo.... Summer Solstice, this album is called. I will put in an order ! Their vocal harmonies on this Steeleye Span album and most other Steeleye Span albums is really great.
All Around My Hat sees the band doing what they can best. Electric folk rock with very strong vocals and some good songs too. In this case, almost forty minutes of it.
The album starts with the haunting Black Jack Davey. A song I rate as one of their best ever songs. Another great song is the title track.
The other songs are good, although I don't really understand what a clarinet do on the rather throwaway song Dance With Me. A song which takes the band into the pop scene.
The other songs are much more genuine and honest folk rock. There is no denying that the band has become a bit more commercial acceptable on this album. There are no really hardcore folk music here. The corners has been cut and the rough edges smoothed over.
That aside, this is a very good album and one to check out.
3.5 points