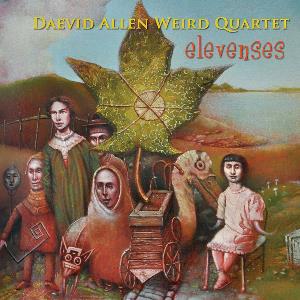 The fifteenth and final album from the much missed Daevid Allen.
Daevid Allen (Soft Machine and Gong) passed away in March last year and left a huge amount of album behind him. A huge legacy. His partner and wife Gilli Smith (Mother Gong) passed away last week too and the world has lost their two most foremost dada'ism musicians.
It is pretty obvious that the songs Daevid is contributing with here has been recorded well before he passed away. There is a lot of songs he is not contributing anything on and which I suspect has been recorded after his passing. The band behind Daevid Allen is Paul Sears from The Muffins, Don Falcone from Spirits Burning, Trey Sabattelli from The Tubes and Michael Glare.
Daevid Allen is very much alive on the first tracks. Some very whimsical tracks with his vocals and guitars. Very good they are too. Melodic pop tunes too in the Allen/Gong vein. I cannot help myself smiling.
The band takes over and creates a lot of music in the spirit of Daevid Allen. Whimsical and slightly avant-garde. Also pretty jazzy without being jazz. There is even some post rock and some slightly zeuhl influenced music here. All of them genres in the spirit of Daevid Allen.
This album is both an album from Daevid Allen and a tribute to Daevid Allen. On it's own, it is also a remarkable good album too. It is by no means a masterpiece. It is not even a great album. But I find myself liking this album a lot. Check out this album.
3 points