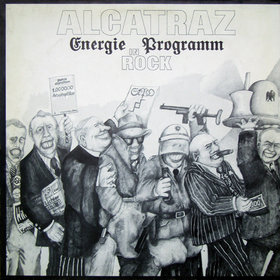 The second album from this German band.
I
reviewed
their 1971 debut album Vampire State Building back in November 2012. A good krautrock album who explored the landscape between jazz and blues. So I had some hopes here...
Seven years is a long time and the band returned as a five piece band with a lineup of bass, drums, keyboards, guitars and German vocals.
Seven years is indeed a long time and the band had changed their style. And that to a more vocals based style.
Energie Programm In Rock is twenty-five minutes long divided on ten songs. Two and a half minutes on average, these songs are.
The music is vaudeville theatre pop/rock with some krautrock influences and some Gong influences. There are some humour, or make that some feeble attempts of being funny here. Spoken vocals and some sound effects is on the top of some very sparse and funky pieces of music.
As I stated in my
review
of the Vampire State Building; that album is far better than any of their five follow up albums. Energie Programm In Rock stinks like a turkey yard. It is indeed a turkey and a total waste of space unless you speak German. And even Germans would find this a very difficult album to like.
1 point