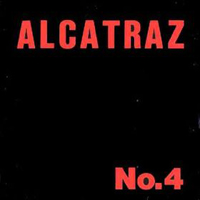 The third album from this German band.
I am not sure why they have titled this album as No 4. Maybe this is German humour or they have an album
ProgArchives
is not aware of ? I don't know.
The band was a trio on this album with a lineup of guitars, bass and drums. And no vocals and no nonsense like on the previous album. An album I hated/hate.
The band, who once upon a time released the semi-classic album Vampire State Building, their debut album, has not really impressed me or anyone else. Well, mostly nobody else. The band may have some fans out there. Good luck to them.
No 4 is another radical change of direction. A funky bass with some guitar solos on the top is what we mostly get here. Spaced out bluesy rock... Krautrock in other words.
This album is forty-six minutes long divided on seven tracks. It does not really open that promising. But it gets into gear after some minutes and contines mostly as a hard rocking album.
The music is pretty primitive and raw. This is not progressive rock. This is balls-to-the-walls rock. But there are also some pretty pastoral pieces here.
I actually quite like this album. It is not a good album. But it is a decent to good album. It also partly restore their reputation in my estimation. Not bad.
2.5 points