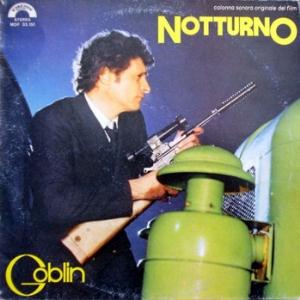 The thirteenth album from this Italian band.
Goblin split into two bands before the release of this soundtrack album. This is the Goblin splinter band who had splintered off the original Goblin. They were a quartet and their lineup was woodwinds, keyboards, drums, bass and percussions.
The four members here are Antonio and Agostino Marangolo, Fabio Pignatelli and Maurizio Guarini. Just so we know what this version of Goblin was.
I have heard nothing about this movie. Well, I have to correct myself. The details about the film can be found
here
. It seems like a diversion from the usual horror movies Goblin usually did.
The movie soundtrack is said to be the best thing about this movie. Which makes me not that sorry that this movie cannot be found at Amazon.co.uk. I think I will therefore bypass this movie altogether.....
This half an hour long soundtrack is not that interesting. A mix of funk and easy-listening fusion. And there are some sound effects and some light rock too.
Frankly, this is the music that can send anyone to sleep. Try it tonight and you will see what I mean.
This half an hour is frankly too dull for me.
I can see why some says the 1980s was a terrible decade for Goblin. This album proves it. One decent track saves this album from ending up in my turkey yard among the other turkeys.
1.5 points