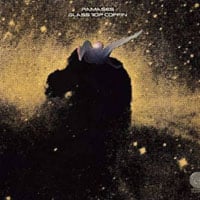 The second album from this UK band.
This band was set up by a man who believed he was a God. Or perhaps just a pharaoh. In any case; he was barking mad. He also released two albums under this name before the lack of commercial success closed down this band and the label support.
Their label Vertigo sunk a lot of money into this album by hiring both London and Philadelphia Symphonic Orchestra. That and a lot of other musicians. Cheap, this album was not.
What did they get ? A kind of a hymn like album with a lot of religious dreams and imagery. Not about Jesus off course. It was about this demented guy behind this album.
At times, this album reminds me about The Moody Blues second album. A lot of instruments and a demented male and female vocal on the top. Other parts of this album reminds me about My Sweet Lord by the Beatle George Harrison. Other parts is too sickly sweet to be described.
The quality of the material here is very poor and the fifty minutes in the company of this album is pretty bad. Several times fifty minutes in my case. Avoid this turkey at all costs.
1 point