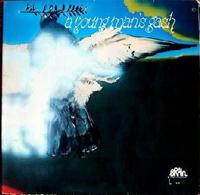 Another one off band from the krautrock scene in Germany.
Gash were a four piece band whose lineup were keyboards, guitars, bass, drums and vocals. Their only claim to fame was this album and then they disappeared again.
Gash is belonging to that proto-krautrock end of that krautrock scene. Take a lot of blues, add some African rhythms, hard rock and some beat music too. Then you get this album. I get some Osibisa vibes here in addition to the hard rock and blues bands from that time. There are also some rather faint Beatles references here.
The album is just over forty minutes long and the sound is decent. I think Garden Of Delights re-released this album on CD some years ago. That has cleaned up the sound.
The songs are not really that good. The keyboards and the hard organ playing is as usual the best thing about an album like this. This is a decent, dated album and that is it.
2 points