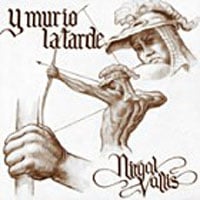 The one and only album from this Mexican band. The album was released through a local label in 1985 and through Musea in 1986.
Nirgal Vallis was a six piece band with a drums, bass, electric piano, synths, sequencers, violin, guitars, percussion and female vocals. I have to say that the female vocals here is not particular great. They suits this music, though.
The music here comes across as Mexican/Latin folk rock in the beginning before this fifty minutes long album broadens out into a much more symphonic prog album. Camel is a good reference here.
This album is in essence a folk and symphonic prog crossover album with a great deal of local culture and flair. That with some English folk and symph prog thrown into the mix.
The result is a good album which should appeal to a lot of prog heads. It is highly rated in all prog reviews blogs and I hope it will give this album the attention it deserves.
3 points