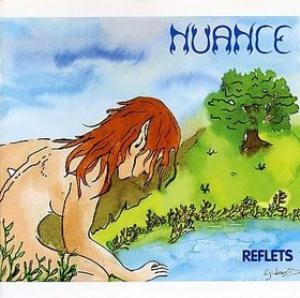 The fourth and probably final album from this French band. A band whose debut album was released back in 1982. Their first two albums was released on cassettes which was the prevailing media at that time.
Reflets was a private CD pressing and not a so much sought after album. I think a re-release on Bandcamp or a proper CD is in order, though.
Reflets offers up forty-five minutes of French neo-prog. As with symphonic prog, the French bands did things differently. You can take a large slice of Jacques Brel again and add some French chanson. In other words; what Ange and the Deschamps brothers has done since 1970 and is still doing to this day.
The only difference between the likes of Nuance and the likes of Mona Lisa and Ange is that Nuance has a bit of a neo-prog sound aka Marillion and Pendragon. You still get some classical orchestra bits on Reflets. Yes, the borders between what Ange and Nuance does is a bit blurred. Reflets is most certainly on the more symphonic end of the neo-prog scene.
The end result is an album without the great songs. It is still a solid, good album which deserve a larger audience. A much larger audience. A re-release is in order here.
3 points