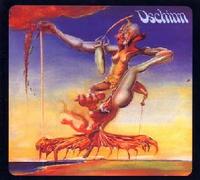 The one and only album from this German band.
I got this album as a part of a 25 CDs krautrock albums Ebay deal. And this five piece band played something that reminds me about krautrock....... The album also included a bonus CD with outtakes and alternatives. I am not reviewing that bonus CD at all. Only fans of this very obscure band will find any joy in that CD.
Their lineup is English vocals, guitars, harmonica, bass and drums. Which is pretty much the blues recipe. And yes, there are blues here too.
A hard rock album is what this album essentially is. There is not much German sound here at all. I cannot find anything German here. The hard rock sometimes breaks into 1960s beat and blues too.
There is not much good music to be found here. The sound is, well, like 1972. The music sounds and is dated. The date is probably more late 1960s than 1972. The music is decent though and the bonus CD adds (?) some value to this album too. Check it out if this sounds interesting to you.
2 points