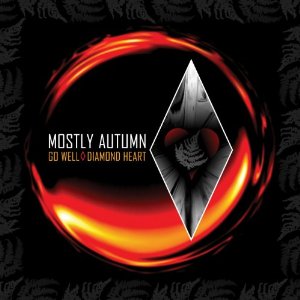 The ninth album from this British band. One of the pioneers in female fronted prog rock. One of the best bands too, in my opinion.
I think Mostly Autumn is one of the best British bands post millennium. Full stop. Even after when the excellent vocalist Heather Findlay left them and Olivia Sparnenn took over the vocals duties. A job she is doing superbly here.
We are again treated to a mix of female and male vocals on the top of eight pretty commercial sounding folk prog tunes. Let me start with a bit of a turd of a song here. The four minutes long Something Better makes me cringe big time. A over the top commercial country'n'western tune which should not be anywhere near a Mostly Autumn album. Or any other albums, for that matter. I am not too happy about the commercial slickness of some of the other songs too. But that is just a minor complaint.
The positives....... The vocals are great and most of the other songs. The opening song For All We Shared and the title track is great. Yes, the songs are a bit over the top and a bit cheesy. It is still a very good album from a band I think is still too under valued and has not really got the recognition they fully deserve. Get this album.
3.5 points