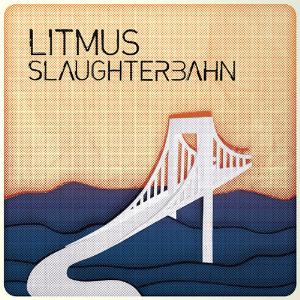 A British band with their fourth album.
We are talking psychedelic/space rock here. Litmus has often been labeled as a Hawkwind, the Lemmy era, copycat band. That is an allegation I believe they are pretty much proven guilty in. Slaughterbahn though also takes a bit of a different direction too.
There is no doubts this album is drenched in Hawkwind. But it is also drenched in punk and frantic pub rock like Dr Feelgood. Some of the songs on Slaughterbahn has taken a lot of their ideas and rhythm structures from Dr Feelgood's frantic music. In particular the guitar riffs. That is not a negative thing though. Litmus though has something very few other psychedelic/space rock bands has. Namely a great moog and melotron sound. The way they combine the primitive pub and punk rock with moog and melotron makes this album and Litmus a special band in the scene. It is a great combination.
There is no killer tracks on this album though. But it has a great deal of things going for it and I am pretty intrigued about Litmus back catalogue too. I think I will get some more albums from them. Litmus can be added to the list of great new English bands.
3.5 points