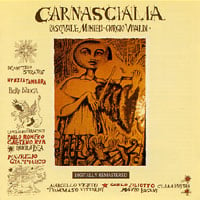 The one and only album from this Italian band.
If there were any justice in the scene, there should be a popular demand for a re-release of this album. An album long deleted and only available on Ebay for a king's ransom. I am pretty sure it would find an appreciative audience of 1000 x buyers and more if re-released though. Not only because Demetrio Stratos from Area did the vocals here but also because of the music itself.
Folk rock, they label this album as. That is not quite what's coming out of the speakers, though. The music is more avant-garde and even Canterbury avant-garde. Picchio Dal Pozzo and Area springs to mind. There is also some Soft Machine aka their fifth album on this album. And yes, there are also some folk rock and Italian symphonic prog here. But put them in the Picchio Dal Pozzo and Area end of the Italian scene.
The music is being performed with a wide variety of instruments. Both electric and acoustic. Demetrio Stratos vocals also plays a big part on this album too. An album which is both a bit bewildering, great and disjointed at the same time. An album I first dismissed out of hand as horse manure, then listened to again and decided to give some more chances over several weeks before I arrived at this review.
This album has some great melody lines and melodies. It also have some disjointed stuff which should had been edited better. It is though a great album which should be re-released again in the wake of Yugen's, Area's and Picchio Dal Pozzo's newfound popularity. If you are a label owner in Italy and is releasing this type of stuff, you know what to do next.
This is a great album well worth checking out. It is not a folk rock album though.
4 points