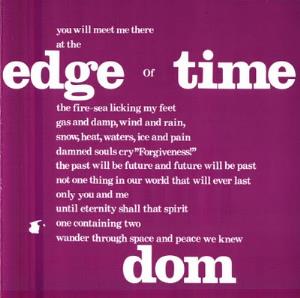 A one of international cooperation band with a krautrock masterpiece, if the reviews in other pedias is to be believed. Well, I am going against the rest of the reviewers here.
Dom was an international cooperation with musicians from Hungary, Poland, Germany. The music is folk and symph prog based krautrock. It starts with two good and long tracks Intruitus and Silence which is a mix of Amon Duul and some avant-garde symph prog. There are even a great melody line here. The album then plods into some pretty pointless avant-garde plodding and then nosedives into techno. The first eighteen minutes of this album is good to great in other words. The rest of the album is pretty much a waste of time.
I don't think this album is worthy the masterpiece status. I think it is at best a decent, two faced album. It is not an album I really enjoyed. It is a decent album.
2 points