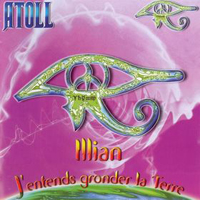 The sixth and final album from this French band.
Atoll were a member of the very vibrant French prog rock scene in the 1970s. On their first two albums, that is. They changed to a more commercial French rock sound after those two albums in hunt for commercial success. This album too is firmly a French rock album. The vocals are in French and the instruments are keyboards, guitars, bass and drums with violin, flute and saxophone adding some extra commercial textures.
The sound is in the 1990s to 1980s mould. Not particular great in my ears. I cannot stand that sound.
The music is decent throughout. There is no real good songs here though and the album is a bit of a frustrating experience. I want to like it, but I cannot. A decent album, nevertheless.
2 points