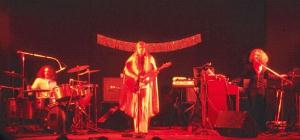 The debut demo from this band which really never broke out of their village and into the scene. Thanx to Bandcamp, this and their other two offerings has got proper releases. Another good reason to love Bandcamp then.
This demo has a lovely analogue sound with the occasional sound disturbance from the LP player. Very charming. The overall sound is very good and this does not sound like a demo to me, sound wise. The Bandcamp format may have something to do with that though.
The music is charming 1960s sounding melody based proto prog. The songs are long and the band tries to pull of long compositions without really succeeding. The material on this demo is anonymous and dull. But this band had talent, but perhaps not the business skills required to break out. This is a decent demo, but nothing more. It is highly recommended to all proto prog fans.
2.5 points
Link to free album