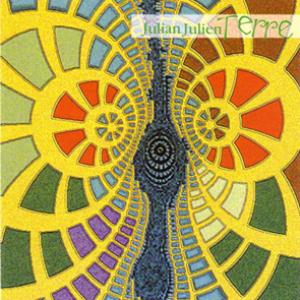 A bit of an odditiy album in my humble views.
Listed as a fusion/jazz artist, Julian Julien comes across as much more as a RIO artist on this album, his debut album. I am sure I have heard some similar music before........... let me see.... Yes, this album reminds me a lot about the Moonberry album from Pikapika TeArt, Siberia in Russia. Terre is by no means a clone and I doubt Julian Julien has ever heard about Pikapika TeArt (but he has now so check them out, Julian).
But jazz/fusion, Terre is not. More like chamber orchestra RIO in fact. Which should make Julian Julien an excellent shoe in for the many RIO festivals in his local area.
The music on Terre is created with the typical chamber orchestra instruments. Piano, strings and woodwinds. There is also a strong rhythm running through this album.
The overall quality is very good to great throughout. This album takes time to settle though so I am almost flipping coins between a three or a four stars verdict. But I end up on a weak four stars for it. It will be very interesting to see where Julian goes next.
4 points