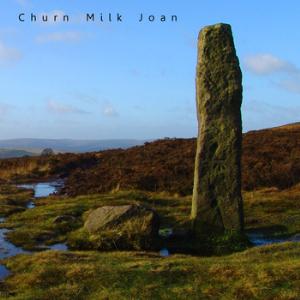 A new Trans-Atlantic studio cooperation between Colin Robinson from Big Block 454 and Richard Knutson from Plum Flower Embroidery. Neutral Sons and The Chacers. This is their debut album and they have promised to release more albums.
I do not know Richard Knutson's other projects, but I know Big Block 454 pretty well. Churn Milk Joan sounds like a stripped down version of Big Block 454 with Richard Knutson's added vocals. His vocals and contributions to Churn Milk Joan sounds like a crossbreed between Depeche Mode and it's vocalist Dave Gahan plus INXS funky vocalist Michael Hutchence. Colin Robinson contributes with the weirdo Big Block 454 trademark rhythms and instruments (= everything in the house he could lay his hands on).
The music is funky as in a crossbreed between INXS, Gong, Depeche Mode and Big Block 454. Some would brand this Krautrock and they are spot on. This is Krautrock. The songs are pretty simple and one-dimensional. They churn on and on without offering much variations from the vocals + weird rhythms pattern. Some discorded guitars are added to some of the songs to add textures.
The quality is good throughout. I am not used to this type of music at all so my final points reflects that. The music here is too one-dimensional for my liking. The sound is excellent though. The many weird sounds on this album is also worthy exploring. This is a free album (see link below) and very much worth checking out for yourself. If you like Big Block 454, you will also like Churn Milk Joan.
3 stars
Link to free download album