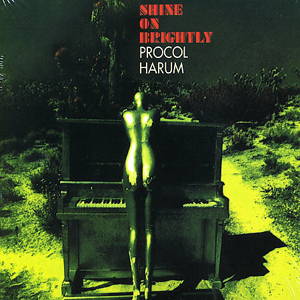 Their second album.
Procol Harum is most known for the masterpiece A Whiter Shade Of Pale. A song which really has overshadowed the rest of their outputs and it feels like the band is a one hit wonder. They are not and they have a lot to offer on their many albums. Albums like Shine On Brightly.
A Whiter Shade Of Pale was based on a piece of Johan Sebastian Bach and it is obvious that Gary Brooker and the others in this band really like Bach. On the first half of the album, that is. In particular on the title track where Bach is all over the song. I would say Shine On Brightly style wise is a mix of Bach, folk music and the 1960s flower power pop music. The Beatles is also very much an influence. Then again, everyone was influenced by The Beatles and Procol Harum is no exception from this rule.
The title track is superb and so is a couple of other tracks too. But the difference between the really great stuff and the mediocre is pretty big. This album is 50/50 great and mediocre. Hence I am falling down on three points. But this is an interesting album and I really rate this band.
3 point