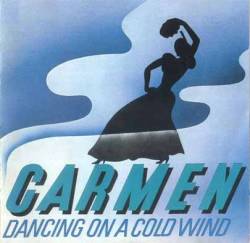 The second album from this English band who embraced Spanish folk music/flamenco and made three albums.
After the opening minutes with flamenco, the album settles down to a mix of folk and progressive rock. Some eclectic prog like Van Der Graaf Generator is also very much present. Dancing On A Cold Wind is an album really looking at VDGG and copying a lot of their ambience. It is therefore quite a dark album.
Unfortunate, this album is a bit of a step backwards from the great debut album. The songs are simply not good enough. That is this album's shortcoming.
But this is a good album, nevertheless. I really like this band whose embrace of Spanish music really gave the scene something good in the midst of the brutal fascist Franco regime ruling Spain. A regime thankfully no more.
3 points