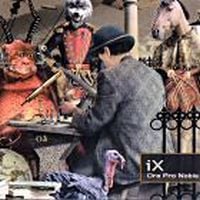 The solo project from Tempano's keyboardist Giuglio Cesare. He is from Venezuela.
Venezuela has a great music scene which has produced some great albums. Ix is a good addition to this scene. Hopefully, Ora Pro Nobis is not it's only album.
Ora Pro Nobis is a complex album by all means. It is rooted in South American music. Or jazz to be more precise. This album has a great deal of lush female vocal jazz (in Spanish) with a great lounge feel. Other parts of this album contains pretty complex eclectic progressive rock too. There are some good references to Yes here too.
Besides of the vocals, the music is dominated by keyboards, guitars and woodwinds. The sound is both lush and warm.
The music is very good. I am missing a couple of great tracks which could had elevated this album to the next step. But I am really enjoying this album and can recommend it.
3.5 points