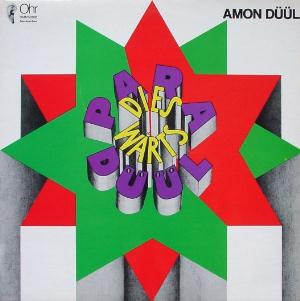 This German band should not be confused with the British band with the same name or Amon Duul II. This version of Amon Duul was a collective of left-wing hippies who also made music and released albums.
Paradieswärts Düül is their third album if I am not mistaken and the only one I got by them. This is also reputed to be their best album and I think I will let this one be their only album in my collection.
Paradieswärts Düül is an album with understated songs with a substantial Kraut and space rock feeling. Add some blues too. The instrumentation is vocals, guitar, bass and some bongo and African drums. Some flutes are also added here.
The amateurish feeling is dominant here. Which is not a bad thing. But the collective feeling where everyone adds their contributions, good or bad, is dominant here. Some contributions could had been omitted and the sound could had been far better. The vocals are pretty horrible. They are in English and that does not improve the matter at all. German is a good language, btw. Use it.
The result is a decent album which falls way short of what their brethren in Amon Duul II has come up with. Don't confuse these two bands as I did when purchasing this album. Paradieswärts Düül has some good stuff. The hypnotic bass lines on some of the songs, for example. But the rest of this album is pretty much best forgotten.
2 points