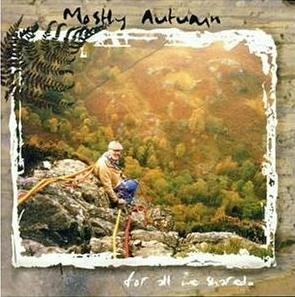 The debut album from this UK band who has become pretty popular now.
I purchased their albums one year ago in the middle of a frenzy to get everything. But I only started to listen to this album last week in preparation to review this album. That was my first exposure to their music.
As expected, this band is mixing traditional folk music with rock. I am not a big fan of this scene as the biggest commercial act in this scene is one of my pet hates. Yes, that's The Corrs and I cannot stand them at all. But Mostly Autumn is mostly staying away from those crimes against humanity. There is a lot of substance and classical music like approaches to the music on this album. Most of this album is very good rock in the vein of Pink Floyd. But my overall impression is that the band has not matured in their expression on this album. You get Pink Floyd and Camel like melodies clashing with traditional folk music. It does not sound right and it really ruins this album for me. You cannot ride two horses at the same time. You cannot eat a cod supper with strawberry jam batter.
That is why I am not happy about this album. The band has yet to find their form..... I hope ! I hope this album is not the norm for the rest of their albums too. In that case, I have some unwanted items in my flat.
This is a decent album, but nothing more.
2 points