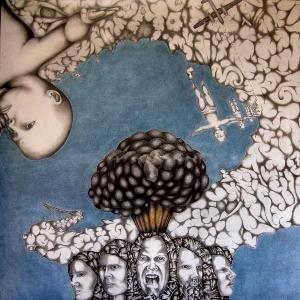 Eldberg (also) means "volcanic mountain" in English and that describes the recent geological activities in Iceland, Eldberg's homeland. So much that all airplanes in Europe was grounded two years ago after one of the mountains in Iceland turned into an eldberg.
Iceland's music scene is producing some really great band these days. Eldberg is one of the batch of bands who is getting a lot of fans outside Iceland. Their brand of 1970s rock'n'roll is refreshing, to say at least. References are the likes of Deep Purple, some Genesis, Rainbow, the southern rock scene..... well, 1970s rock scene.
The music is based on a rampant organ throughout. Fans of hard hitting Hammond organ must get this album. The organ sound here is absolute fabelous. The Icelandic vocals too is great. The rest of the band also does a great job and it is obvious that Eldberg is a great band from a to z.
The songs are both epic and catchy. The catchy song here and would had been a top 10 hit single if released in 1975 is the great Sunnan Vis Sol, Austan Vis Mina. A bit of a cheesy children-rhyme like song. But it is still a suberb song. The other outstanding song here is Ég Er Lífsins Brauð with it's excellent hymn theme. The fifteen minutes long Hliðarlif Vor Tíma offers up a cascade of various themes and music styles from the 1970s. This song is some great fifteen minutes in anyone's life. The rest of the album is also great.
In short; this is a great album and I have to my satisfaction noticed that I am not the only one hoping for a lot more from this very promising band. Feel free to go on a viking raid into Europe and USA too, guys.
4.5 points