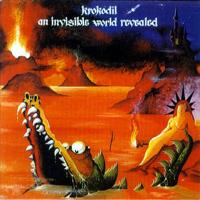 The third album from this Swiss band.
The band was a quartet on this album with a lineup of guitars, mellotrons, sitar, bass, percussions, flutes, drums, harmonica and vocals.
I have quite liked their previous two albums. Good blues and psych krautrock. But these albums was still lacking something.
The band has moved on a bit since their two first albums. They have refined and developed their sound and music a lot. The result is an album with many faces and many ideas.
This album is clearly a krautrock album. This is krautrock with a lot of blues, hard rock, avant-garde, psych and space rock. There is a great 1960s psych and beat feel here.
The use of Mellotron here is great and very inspired. The mellotron is used as a contrast to the many hard rocking psych and blues pieces here. Pieces with a lot of jagged harmonicas, flutes and guitars.
The songs here are really good. On the original version of the album, that is. This is the one, the forty odd minutes long album, I am reviewing. The bonus stuff is OK. But they are included in this review.
There are two fifteen minutes long pieces here and some five minutes long pieces. All of them are very good.
This is one of the better krautrock albums I have ever sunk my teeth into. There are no great stuff here. But it should really be checked out. Do it.
3.5 points