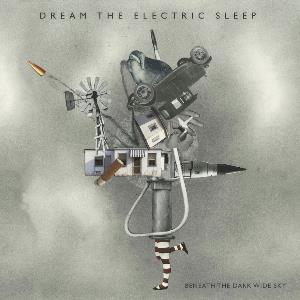 The third album from this US band.
The band is still a trio with a lineup of drums, guitars, bass and vocals.
I very much liked their first two albums. See reviews somewhere else in this blog (the alphabetical list to the right is a good start point....). Dream The Electric Sleep is a breath of fresh air in the progressive rock scene.
Hence, I was looking forward to this album.
One hour, eleven songs. That is this album.
The band is still mixing in symphonic prog with post rock and some neo-prog. There was also some space rock and hard rock on their first two albums. Albums who mixed everything onto a plate and told us listeners to "EAT !!". Which we did.
The band is still mixing up things a lot. Post rock with a lot of neo-prog and rock. The rock element has taken over a lot of this album. The raw edges, which made their first albums both fresh and difficult to get into, has been removed a bit. There is still some raw edges here. But most of them has gone.
What we get here is still a good album which brings promises about more great stuff to come from this band. But the band has relaxed a bit and taken a breather on this album. This album is bordering to a very good album. But I am missing some of the raw edges. Hence my verdict.
3 points