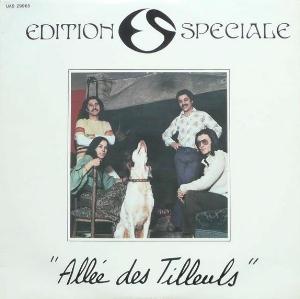 The debut album from this French band.
The band was a four piece band with a lineup of keyboards, bass, drums, guitars and vocals.
Edition Speciale was a short lived band with their roots in another French band called Triangle. That band was a Canterbury prog band.
Listed as a Jazz/Fusion band in ProgArchives
, I got a bit surprise when listening to this album. An odd one album from this band as their two other albums is what ProgArchives has listed the band as.
Allee Des Tilleuls is a vocals dominated slighty jazzy and fusion like album. Jazzy and fusion like as there are some good jazz and fusion behind Ann Ballester's much disputed vocals. Some call her vocals as horrible. Some call it good or even great.
Her vocals divided the critics and record buyers. And I am falling down on the side of those who does not rate her vocals as great. They are not even particular good and I am even in my more evil moments suspecting that some of the vocals here are a duet between her and the vocals of the dog in the picture above. But the driving guitars from Martial Lorenzini is still very much loud and clear on this album.
Inbetween the jazz and fusion, there are also some very French pop music here. Most of all, this album and the more pop music pieces reminds me about Harmonium from Quebec, Canada.
I find some good and some barely decent stuff on this rather long album. An album re-released by Musea on CD some years ago. I am more looking forward to sink my teeth into their two other albums. But give this album a chance if you can.
2.5 points