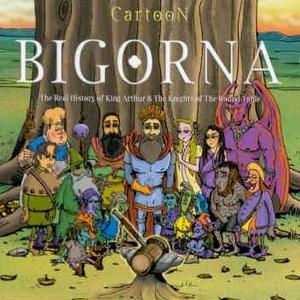 The second album from this Brazilian band.
The band was a quartet with a lineup of synths, keyboards, bass, drums, harmonica, sitar, guitars and English vocals. There are also numerous guest musicians here who adds strings, harpiscord and woodwinds.
I was pretty OK with their 1999 debut album Martelo and their third album Estribo from 2008. I have not managed to get a copy of their fourth and so far final album Unbeatable from 2013.
This album is a concept album based on the much used (Rick Wakeman etc etc) story of King Arthur and the Knights of the Round Table. I believe this is a concept album.
Their debut album Martelo was mad and maniac album in the Frank Zappa vein. It was also with Portuguese vocals. Bigorna sees a big change.
Gone is most of the madness. All of it, in fact. OK, a concept album about this much overused King Arthur is madness. But not in a good way.
The music here is pomp rock with a concept album feel. Rock opera feel also, several places on this album. This album is seventy-four minutes long. Very long, in fact. It is another album I have been struggling with.
The music is soppy, overly dramatic and too much in the AOR vein at times. There are some symph prog popping up now and then. But pomp rock is my overriding feeling about this album.
It feels overbloated and short on quality. It is too pompeous and overblown. It is though a decent album which I respect. But nothing more than that.
2 points