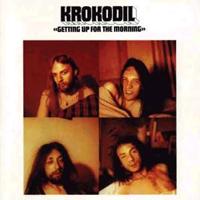 The fourth album from this Swiss band.
The band was a four piece band on this album with a lineup of flutes, harp, bass, drums, guitars, keyboards, klavino, sitar and vocals.
Their first three albums had been reasonably good albums. Three albums in the Krautrock vein. Not as in spaced out space rock. But more based on blues and very much song based albums.
Krokodil was never a space rock band. They kept themselves pretty near the muddy river banks of blues and rock.
That is where we again find this band. That is where we find this album. Forty minutes, seven songs.
The basis is blues based krautrock. The band has taken the German krautrock sound and adopted it to their own needs. But there is also a lot of flower power here. Jefferson Airplane springs to mind.
This mix of blues and flower power is pretty heady........ and good.
The harp and the flute is giving the album an extra dimention and an extra boost. They makes this album a bit better.
This is a good album and one to check out from a long forgotten band. I quite like this band and their music.
3 points