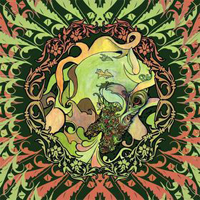 The debut album from this English band.
The band was a six piece band on this album with a lineup of moog, keyboards, bass, drums, saxophone, harmonium, bongo, crumhorn, flutes and vocals. Both male and female vocals.
I very much liked their second album Clocks Are Like People from 2006. See my review from
October 2016
. Both albums was released on the metal label Rise Above Records (run by Lee Dorian, ex Napalm Death and Cathedral) and now obviously a folk rock label. Circulus is not the only folk rock act in their roster.
Circulus is their most commercial and "soft" band. The band delivers unmistaken folk rock on this album. There is a very strong psych rock presence here too. Psych rock from the late 1960s. I suspect that this band is hippies and alternative lifestyler's. Which is not a bad thing !
The music is rather groovy and melody focused on this album. Most of the album, though. The opening song Miri It Is is a short, but very catchy song. That and the following four tracks brings a grin to my face. Good stuff.
There are also some spaced out Gong like trips here too with pixies and green spaces. That towards the end of this album. That too is great stuff.
The vocals, both male and female, are really great here. They are not as good as Sandy Denny and Tim Hart (both R.I.P). But they are good enough for this album and generally very good.
This album is forty minutes long divided on nine songs. The artwork is rather great and I like what I hear. If there is a new folk rock scene in England with bands in the vein of Fairport Convention and Steeleye Span, this band is most certainly one of the better ones. There is no celtic rock here. Just pure English folk rock. They are therefore not in the same vein as Mostly Autumn and those bands.
This album is just purebred English folk rock and it is a very good album too.
Get it !!
3.5 points