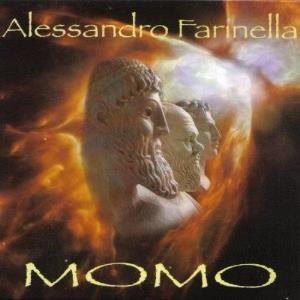 The debut album from this Italian artist.
Alessandro Farinella is doing the vocals and keyboards here. He has got help from the two PFM members Roberto Gualdi on drums and Silvio Masanotti on guitars.
Alessandro Farinella is an ex member of the Italian band Brainstorm and
Theatre
whose only album was released without Alessandro Farinella. He is also a classicly trained pianist.
He is also known in the universities for some highly praised academic work.
Momo is the first of his two albums... so far.
I very much liked
his second album, the 2012 album Road To Damascus. So I got Momo too.
Momo is almost one hour of art rock. Art rock leaning a lot on neo-prog throughout most of this album. Most of this album is very much song structured. There are some more symphonic ambient pieces here too. And some fusion too. But most of this is neo-prog.
The music is very melodic and a bit on the ambient side of the musical spectrum.
There is no great pieces of music here. But most of the album gives me a lot of pleasure and quality. There are also a few pieces here which does not work out at all.
But my overall impression is that this is a good album from an undervalued and overlooked artist. Give his music a chance. Lend it your ears.
3 points