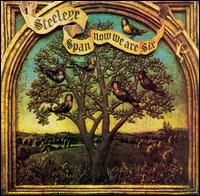 The sixth album from this English band.
I am not entirely sure what the album title refer to. But the band was a six piece band here and I guess that is what the album title refers to. The lineup was woodwinds, electric and acoustic guitars, electric dulcimer, banjo, mandolin, piano, violins, synths, drums and vocals.
Tim Hart is again the male vocalist while Maddy Prior does the female vocals. Both do a superb job.
This album is the most rock orientated album so far in their career. The band and the music here is still firmly rooted in folk music. Steeleye Span has by no means sold out in their hunt for money and fans.
Far from it !
The music here is rock orientated. But it still has this Steeleye Span trademark sound and their folk music roots. Maddy Prior does a superb job as per usual and the band is also great.
There are a couple of great songs here and some less than decent songs. This is indeed an uneven album where the first two songs gives a lot of promises not fulfilled by the rest of this forty-three minutes long album. The final minutes of this album is pretty dreadful too.
The end result is a good album which could have been so much better.
3 points