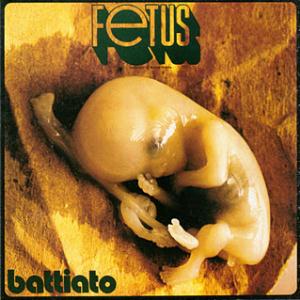 The debut album from this Italian artist.
First of all, an apology for this pretty horrendous offensive cover. I have been in serious doubts if I should even touch this artist because of this cover. By no means do I endorse this cover. This cover is his most offensive cover so I will let it pass, uncensored.
It goes without saying that the English/American version of this album did not include this offensive art-work......
Franco Battiato was a pretty controversial artist and the album art-cover more than explains why. On this album, he had help from six other musicians. He did all the synths and vocals himself.
Franco Battiato started out as a pop singer and his first singles are pure Italian pop. Not satisfied with light hearted pop, Franco went for progressive rock on this, his debut album.
This album includes half an hour of some sort of progressive Italian rock. RPI in other words. Some sort of........
This is a concept album. It is about life of some sort. It is not easy to understand what he want here as this album is so fragmented and incoherent. There are songs and instrumental pieces scattered around the whole album. Some of them pretty heavy. Others again is pretty pastoral. Some are pretty jazzy too. Some are folk rock. Some are pop. All this in half an hour.
There is not much quality here and it feels like Franco has totally lost the plot after the first song. This album is frankly a turkey. I hope the next albums, I got four more to review, is better than this one.
1 point