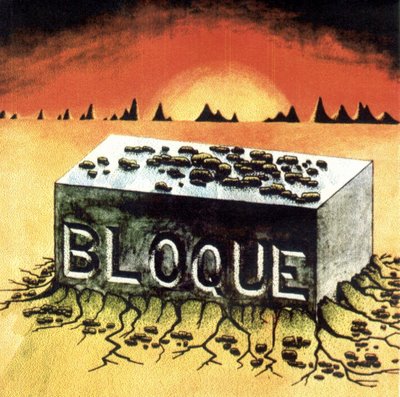 The debut album from this Spanish band.
This band was a five piece band with a lineup of guitars, bass, drums, Mellotron, synths, percussion and Spanish vocals.
Bloque is one of those interesting finds which makes this blog such an interesting hobby. The band went onto releasing four studio album, according to
ProgArchives
. Without them, this band would have bypassed me. Which would have been a loss to my life. I got all their albums and reviews are forthcoming.
This, their debut album, is not regarded as their best, according to ProgArchives.
The music here is a bit of a mix of Italian bands like PFM/Banco and Thin Lizzy. There is even some Black Sabbath here. Add the usual Spanish folk sound to the mix too and some Spanish pop music. The contrasts are pretty big and it is obvious that the band has not really matured yet.
Still..... Being a debut album where the band is trying to include everything and everyone into forty-five minutes, this band is still pretty good. Some stuff here is pretty bad and throwaway. Then again....... There is stuff here which really works. Some Mellotron inspired melody lines makes me believe there is hope in this band. The vocals too is really good.
I really like Spanish music and this band is hitting several of my heart strings. This album though is somewhere between decent and good. But there is hope...... Reviews to follow !!
2.5 points