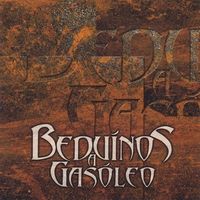 The one and only album from this Portugese band.
There is not often I review albums from Portugal. This country did not really have as great music scene during the years of fascist dictatorship as Spain did have. Portugal is a lot smaller too and their language is mostly limited to Portugal and Brazil.
Beduinos A Gasoleo was formed long time after democracy was reintroduced in Portugal. They were a quartet on this album with a lineup of percussion, guitars, keyboards, backing vocals and bass. They were helped out by vocalists, drummer, saxofone, flutes and trombone.
Three songs, fifty-six minutes. This reeks of jazz. And if you believe that, you are much mistaken.
This album and band is very much a great example of crossover prog. There is a heck of a lot going on each of the three tracks. Both music wise and genre rock. Where do I start ?
The music is based on psychedelic folk rock. Besides of crossover prog, this is probably the best genre to put this album in. But add a lot of cool jazz too. A large chunk of Italian progressive rock can be added too. Ditto for Latin-American pop music. And symphonic prog. And Middle-East folk music too. Gosh..... what have I forgotten ? Yes, some Spanish prog rock too.
Confused ? Well, this is an hour full of bemusing, not to say amusing, music.
And the best of all; this really works out fine. The female vocals are cool and so is the music. A bit of a cool breeze on a warm day like this. Yes, we do have a warm sun here in Scotland too. Do I have a bottle of Campari in my house to go with this album ? No. But you get my drift.
This is by no means a great album. The melodies are not that great. But this is a good album and one to check out if you want something refreshing. Can we get some more albums in this genre, please ?
3 points