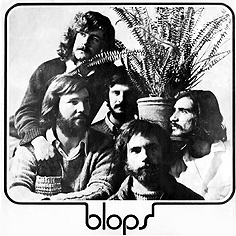 The debut album from this Chilean band.
Blops, or Los Blops as their original name, was a five piece band with a lineup of accordion, bass, guitars, percussion, organ, flutes and vocals. Spanish vocals, that is.
I not know much about this band at all. They released three studio albums and I got them all. They are up for review this month.
The band is a folk rock band. The references to the likes of Los Jaivas and El Congresso is obvious. When it comes to European references.......... Well, I am a bit blank.
The reason is that this band is very much a South American band with the typical South American folk rock sound. That includes a lot of references to the likes of The Beatles and some to The Beach Boys. Doors is a good reference too.
The vocals is a bit harsh and ditto for the sound. There is a lot of instrumental guitars and flutes stuff here which reminds me about the progressive rock scene in Italy.
Some of the melodies here is leaning pretty heavy towards space and acid rock. Acid folk is a good label for this album too.
The music is pretty decent throughout. It is a bit too folky music for my taste. The music is simply not good enough. But it is nevertheless a decent album, well worth checking out.
2 points