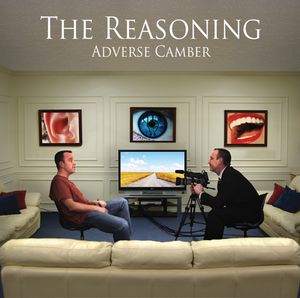 Their third album.
The Reasoning is one of the many spin offs from the two big M's in the English female fronted neo prog scene: Mostly Autumn and Magenta. The Reasoning is a (permanent) spin off from Magenta and has probably overtaken Magenta in album sales and popularity.
Adverse Camber is a good reason for that. Well crafted art/neo prog songs with Rachel Cohen's vocals on the top and the focal point. Her vocals is excellent and she has her own style. A very distinct style which I really like. I also really like this band. I am therefore a tad dissapointed with this album. The sound is excellent. Ditto for the vocals. The music is a tad more orchestral and symphonic than usual from this band. It is also pretty hard. There is only glimpses though of what this band really can do. Most of the material here is really good, but just that. Rachel's voice is the only thing that keeps me interested in this album. I would say it is a bit of a backwards step from their previous album Dark Angel. Adverse Camber is The Reasoning running on empty. I hope their brand new album is better than this one. The EP they released earlier this year was very promising and I hope the album is a pretty big step up from Adverse Camber.
This is a good album but nothing more than that.
3 points