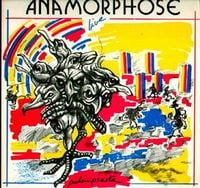 A French one album wonder band. A jazz band, no less.
This is also a live album and I guess lack of funds to do a proper studio album is the reason for that. The music is performed with a mix of violin, keyboards and saxophone as the solo instruments. The bass and drums is supporting them again.
The music reminds me of both Mahavushnu Orchestra and Soft Machine. It is pretty intense throughout. The sound quality is great and I don't really understand why this Musea album is now out of print. It should be put out through Bandcamp at least. The music is very good at times. The saxophone solos is great. The keyboards too is coming up with some good stuff. The violins reminds me a lot about Jean Luc Ponty in Mahavishnu Orchestra. Not all songs here are really that good. But this is still a good to very good album which sometimes becomes a bit anonymouse and dull. But it has left a good impression on me and I hope it will see a re-release.
3 points