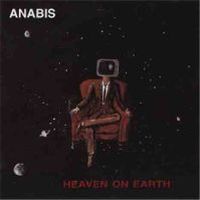 The first of altogether three albums from this German band.
Anabis was in full flow in the mid 1980s in Germany. They are listed as krautrock in some 'pedias. Something I cannot understand. It is obvious this band has been listening a lot to Genesis though. The music here is very much Genesis anno Wind & Wuthering. What Heaven On Earth is missing is the rich and full bodied sound that Genesis album has.
The sound is pretty thin and poor. It is also pretty much neo-proggish with the synth sound, the vocals and the guitars. The vocals is very poor btw and a major downer on this album. The songs are pretty decent without really being imaginative and original. The musicians does not really impresses me and the unit sounds very loose and unfocused in their playing. There are some good melody lines scattered throughout the album. But what could had been good is being let down by the band and the sound.
This is a decent album which leaves a lot to be desired. I cannot find any good reason to repeat my mistake by purchasing this album.
2 points