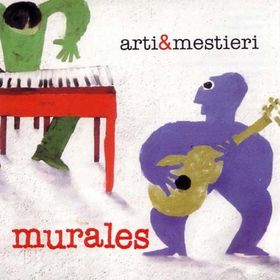 Their sixth album and a bit of a comeback album after fifteen years in the doldrums.
Nothing much has changed with this band. We still get melody orientated fusion with an Italian flavour. Mostly pure fusion though with a lot of good melodies. Most of the music is instrumental. But there are some sporadic vocals here too. Large chunks of this album comes across as a mix of Mr. Branduardi's folk music albums and fusion. In short; the music here is very commercial and almost shopping mall music like.
The music is both airy, light and fragrant. A couple of pretty great track can be found intertwined with some pretty decent tracks. The music lacks a bit substance and teeth though. Murales is a nice listen, but does not tax my brain that much. That is my main gripes with this album. But it is still a good album which I will put on when I need some nice soothing background music.
3 points