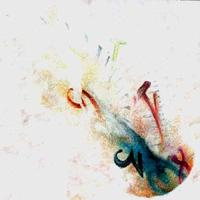 The one and only album from this Italian band.
So far, that is. It is always a hope that they will release more albums.
This band was a four piece band on this album with two guest musicians helping out too. The lineup is guitars, bass, drums, keyboards, organs and Italian vocals.
The band is listed as crossover prog in ProgArchives and I was looking forward to some gentle prog. Which is exactly what you don't get on this one hour long album.
Take post-punk and add some post-rock. Then you get this album. The music is hyper energy and pretty chaotic too. The guitars is frantic pummeling away my ears.
The post-rock elements is good. The punk elements not so good. This is still an album well worth checking out as it is a decent to good album. That is for those of you who likes some noise. Loud noise.
2.5 points