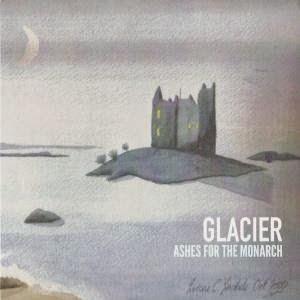 The second album from this British band.
The band debuted in 2001 with their Monuments album. I have reviewed it.... no, I have not. I got it so I will do that later on.
Glacier was formed in the late 1970s and were put on hold for a long time. Monuments was their old songs and this album, Ashes For The Monarch is very probably new material from this band who is still gigging to my knowledge. That in addition to their daytime jobs, I guess.
The band is a six piece band with a lineup of keyboards, guitars, bass, drums, violins and vocals. Both male and female vocals. Their music is somewhere between symphonic prog and neo-prog. I would say late Genesis before they adopted this pop and Motown music. Steve Hatchett has been mentioned by other reviewers.
This one hour long album sounds like a concept album to me with some narration and samples of dentistry and other things.
The music is good throughout without really having a couple of killer tracks. That is my only gripe with this album. It flows nicely like fine wine, but without having a memorable bite which makes it stand out from the rest of the crowd. Check it out.
3 points