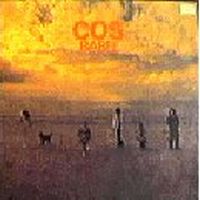 The third album from this Belgium based band.
The band is still hanging around with Pascale Son on (female) vocals and oboe. She is helped by other woodwinds, guitars, keyboards, drums and bass. There are also some male vocals here.
Their first albums was great albums in the Canterbury jazz and zeuhl tradition. And Cos is continuing in that tradition. There is a lot more jazz here though, but the playful approach to music is still here on this forty minutes long album. That seems to be the whole ethos of this band. Play around with music and see what works.
The end result in this case is a good album who is sadly lacking in greatness. It is still an album worth checking out.
3 points