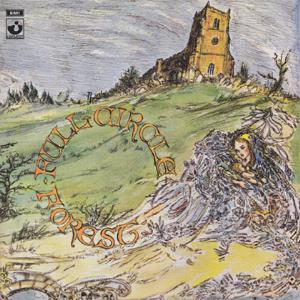 The second and final album from this English band.
The four piece band Forest was always regarded as a cheap version of Fairport Convention. Which did not help the band at all..... This was certainly true on their debut album which was a pretty cheap take on folk rock. Primitive is the word I should use.
So I am a bit surprised to hear this, the follow up album.
Full Circle is very much a much bigger undertaking than the debut album which suffered from a lack of instruments. Full Circle has got a lot of strings attached to the still vocals dominated music here. Add flutes and guitars too and you get the picture. They are still operating in the Fairport Convention area. But they are no longer a cheap copy of them.
The songs here are really good with a lot of good strings and other instruments and vocals arrangements. I was preparing to write something nasty about this album as I did not believe this band had improved. But there is not much wrong about this album. It is one of the better folk rock albums I have heard for a while..... well, since I heard Fairport Convention with Sandy Denny and Richard Thompson.
This album is forty-three minutes long and it a joy to behold. And that from a genre I am not that fond of. Check it out !
3 points